Disability Confident Committed Employer
As of 19th February 2021 St Ralph Sherwin Catholic Multi Academy Trust is a Disability Confident Committed Employer.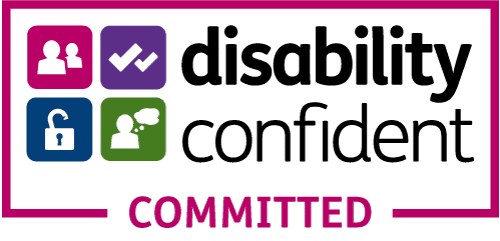 This accreditation is valid for 3 years until 2024 and is the first level of the Disability Confident scheme.
The scheme has three levels the Committed level being the first one and helps employers to recruit and retain great people, and:
draw from the widest possible pool of talent,
secure high quality staff who are skilled, loyal and hard working,
improve employee morale and commitment by demonstrating that you treat all employees fairly
By signing up to the accreditation we have agreed to commit to the following five core commitments:
ensure our recruitment process is inclusive and accessible communicating and promoting vacancies
offering an interview to disabled people who meet the minimum criteria for the job
anticipating and providing reasonable adjustments as required
supporting any existing employee who acquires a disability or long term health condition, enabling them to stay in work
at least one activity that will make a difference for disabled people.
We are really pleased to have been awarded the accreditation and see this as a really positive step forward for the Trust and shows our commitment to supporting current staff and recruiting and attracting candidates in the future.