Students at Saint Benedict are celebrating their A-level results today.
Mrs Boyce, Headteacher at Saint Benedict, congratulated everyone on their results.
She said: "We have seen an increase in the number of A*-B grades compared to the results of 2019, which was the last cohort to sit full examinations. Results in Chemistry, English, Sociology and History are particularly strong. Our students have performed exceedingly well in vocational subjects with 80 per cent of all students being awarded a Distinction. We would like to congratulate all of our students and thank the staff who have supported them. We wish everyone the very best for the future."
Mrs Peden, Head of Sixth Form at Saint Benedict, said everyone should feel proud of what they have achieved.
She said: "As a team, we are so proud of our Year 13s and everything they have achieved today. Across the board – in A-Levels, Applied and Technical courses – students have exceeded our expectations, with many moving forwards onto Higher Education or Degree Apprenticeships. It has been a tough road for this cohort, considering the picture of the last two years, but they have shown consistent resilience and drive to achieve their dreams and be who God meant them to be. I'm so happy for all of them. This has been a very special year group to lead – we are going to miss them so much."
Maisie Litherland, 18, achieved an A* in Religious Studies and As in History and English Literature. She is off to the University of Warwick to study History.
She said: "I logged on to UCAS before I came in but I couldn't get in so I was in limbo until I got the email to say I had been accepted at Warwick.
"It was such a relief and when I saw my results I literally wanted to cry. I think as a cohort we have all been through so much as we didn't sit our GCSEs. These were the first formal exams that we have sat since SATs so I think everyone has done amazingly well."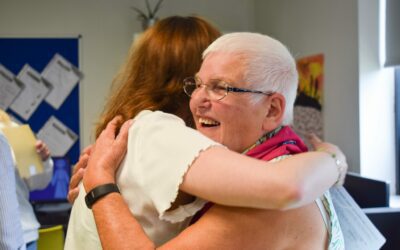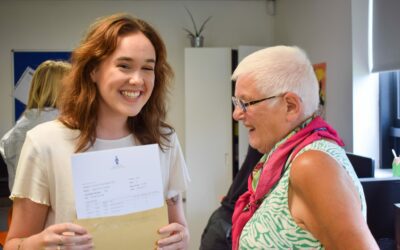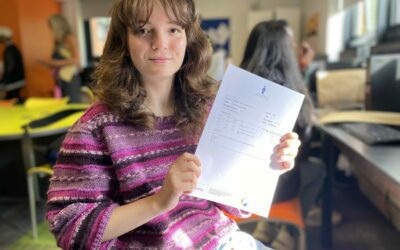 Tabitha White, 18, will be going on to study Film at Falmouth University after achieving Bs in Geography and Art and Design and a C in Design Engineering.
She said: "There aren't many universities that offer Film as a degree and I only applied to two places which is a bit risky. I got the email at 8am to say I'd got into Falmouth which is where I wanted to go."
Elijah Tumelty, 18, was celebrating three As in Maths, Physics and Computer Science. He is going to the University of Newcastle to study Cybersecurity.
He said: "I got the email at 8am to say that I'd got into uni and I was ecstatic. I was very happy as I needed A, A, B. When I saw that I'd got three As I was very shocked. My mum was with me and she was really happy. I rang my dad and got him out of a meeting and he was happy too."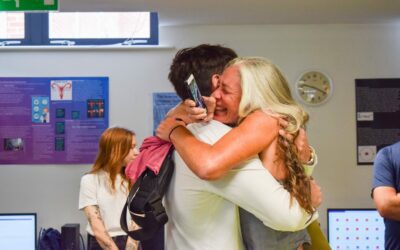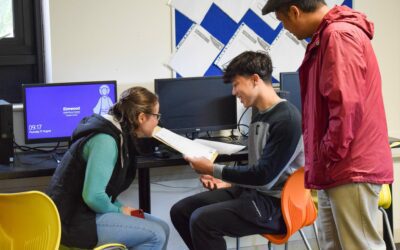 Jonah Macrae, 18, achieved an A* in Maths and As in Computer Science and Physics. He is going on to study Computer Science at the University of Nottingham.
He said: "I woke up at 7.30am and when I got the email saying I'd got into uni I was very happy. That took a lot of the pressure off and I didn't care too much about my results but when I saw them I was really pleased."
Anum Irfan, 18, is going on to study Pharmacy at the University of Nottingham after achieving Bs in Biology, Chemistry and English Literature.
She said: "I was checking the UCAS website from 8am, constantly refreshing my screen and then I got the email to say I'd got into uni. I felt really relieved, it was very nerve-wracking. I had managed to switch off a bit after the exams but it started to hit me again in August and particularly when I walked into school."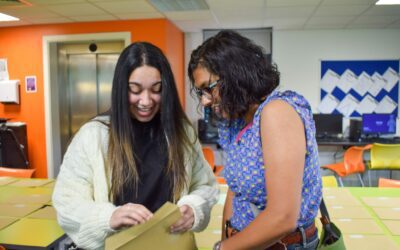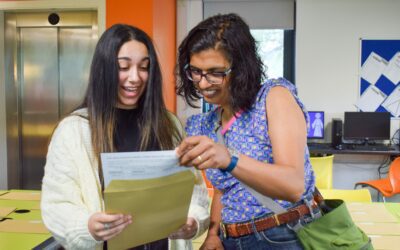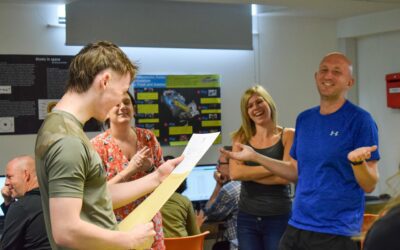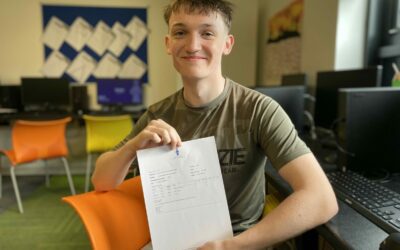 Christopher Godwin achieved three As in Maths, Physics and Computer Science. He is two weeks into an apprenticeship in Edinburgh with a software engineering firm which creates software for the emergency services.
He said: "I'm really happy with my results. I wanted A, A, A although it didn't affect what I will do next because I had an unconditional offer. I applied to 40 companies and had the offer from the company in Edinburgh, each application took about two hours so I was really pleased to get the offer. I didn't want to go to university because of the debt. I'm really enjoying the apprenticeship, it's good and Edinburgh is a great city."
Josh O'Dell, 18, (pictured far left) achieved a D in Geography, a C in Biology and a B in Chemistry. He is going to the University of Derby to study Professional Policing.
He said: "I have always wanted to be in the police and I was happy to get what I needed to get onto the course. I knew I had got in before coming to collect my results so that took the pressure off. I woke up at 6.30am and could log on to UCAS at 8am but because there were so many people logging on I didn't find out until 8.20am that I'd got in."