We are proud to announce that St Ralph Sherwin Catholic Multi Academy Trust has signed the Menopause Workplace Pledge – Wellbeing of Women. Preparation is well underway for the start of our first Menopause cohort programme 'Pause for Menopause' which starts this autumn.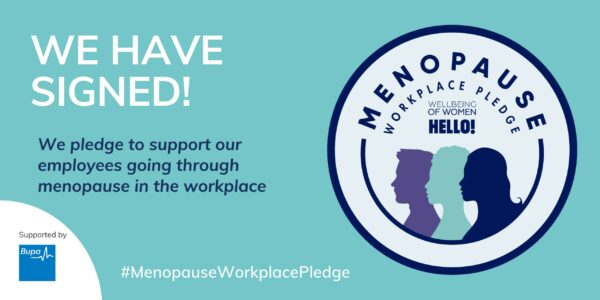 Eco-gardens will be created at eight schools across the St Ralph Sherwin Catholic Multi Academy Trust after they secured funding from East Midlands Airport.
Blessed Robert Sutton, in Burton, St Thomas', in Ilkeston, and St Edward's, in Swadlincote, will share £34,000 from the airport's eco-gardens project.
English Martyrs', in Long Eaton, Holy Rosary, in Burton, St George's, St Joseph's and St John Fisher, all in Derby, will work with a wildlife expert on their garden plans before the amount of funding they will receive is confirmed in the Autumn.
The eight schools were among 26 which applied for funding from EMA's eco-garden project.
All schools were asked to submit designs for gardens or green spaces that substantially boost biodiversity and lead to improved wellbeing.
The proposals were evaluated by a panel of experts which included representatives from the airport's corporate social responsibility team, Derbyshire Wildlife Trust and the parks, green spaces and environmental management team at South Derbyshire District Council.
The submissions were assessed against several criteria. The designs needed to demonstrate how the gardens would make existing space environmentally richer and more diverse, improve biodiversity, stimulate outdoor learning, and have wellbeing benefits.
A wide range of designs were submitted with proposals ranging from creating wetlands,  living classrooms, sensory gardens, vegetable patches and wheelchair accessible green spaces.
Such was the standard of entries that the judges decided to award funding to all schools that participated. Some will be awarded the exact amount of funding that they asked for while others will be given support to refine their designs to maximise biodiversity and wildlife benefits. The cost of these will then be re-evaluated and schools will be awarded the appropriate funding to deliver these schemes.
Jo Pettifer, Sustainability Project Co-ordinator for the St Ralph Sherwin CMAT, worked with schools on their garden proposals.
She said: "I am delighted that 8 of our schools have been successful in securing funds. The design ideas include 'Flight path' inspired by the ducks which regularly land on St Thomas' school roof, "The Lost Gardens of Holy Rosary" which is a magical secret garden idea and The Sutton Way Eco Garden: a garden inspired by Blessed Robert Sutton's Mission Statement – Love, Respect, Hope, Kindness, Resilience – it shows how those values will help us make a more sustainable world. The pupils have worked so hard, carrying out wildlife audits, planning their designs, discussing them with their teachers and filming presentations for the competition. I am so grateful that East Midlands Airport are rewarding all that hard work, what a triumph."
Following on from the huge success of the Stronger Together performance last year at Derby Theatre, the overwhelming feedback from staff and students in schools was " Can we do it again next year, but to an audience?!" And here we are 12 months later with an even more ambitious project!
In partnership with Derby Theatre and our new partner Buxton Opera House we have created our very first St Ralph Sherwin original musical.
The musical has been written by Simon Marshal and Rukus, from Baby People, and co-created by over 50 students from our Trust secondary schools. The students have been involved in the creative process from the start and their ideas, thoughts, feelings and words have been used to create the scripts, characters, music and lyrics.
The musical focuses on the importance of having faith in yourself and explores the idea that your destiny isn't written in the stars but is within you.
Once the script and songs were completed, artists were hired and timetabled to visit the schools to direct sections of the script, music and movement in preparation for the final performance. The schools in the south of our Trust performed at Derby Theatre to a packed audience. The schools in the north of our Trust will perform in September.
Following on from the difficulties of the past few years, it is wonderful to be able to unite in our local theatres as a Trust and with our wider community of parents and friends – and create a piece of history as possibly one of the first Trust's to create its own original musical! Who knows, this time next year we may be on Broadway or picking up an Olivier award!
Trust Performing Arts Lead Anna West
Bishop Patrick McKinney celebrated St Edward's CVA's 50th anniversary Mass on Friday. The Bishop blessed a new anniversary mosaic at the Swadlincote school and Trust CEO, Sean McClafferty, was presented with a special retirement gift. Our incoming CEO, Kevin Gritton, and Trust Board Chair, Jacqueline Rodden, also enjoyed the morning.
A Year 8 pupil at St Philip Howard CVA, in Glossop, spent three hours using Google Translate to write a letter in Ukrainian to a new student.
Billie – Jo, who is a mental health ambassador for her year, wanted to make the new pupil feel welcome.
In her letter, she said: "I'll be here to support you, don't be afraid to come and talk to me."
When Billie-Jo gave her the letter, she apparently smiled for the first time since joining the school and said "thank you" in English.
The school has been using Ukrainian subtitles on its interactive screen and translating written work so that it's easier for their new student to understand.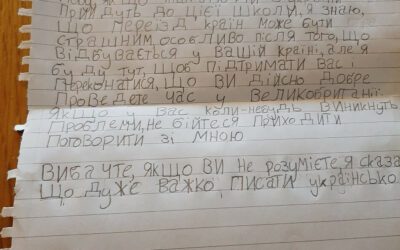 Our Chief Executive, Sean McClafferty, is retiring at the end of August and he had a lovely surprise when children at Saint Mary's CVA in New Mills presented him with a handmade cushion and a book containing lots of handwritten notes wishing him well. Thank you to everyone at Saint Mary's for the wonderful gifts which we are sure Sean will treasure.
Plans have been revealed for an innovative new building for St Mary's Catholic Voluntary Academy in Derby.
St Mary's would be the UK's first biophilic school as part of a pilot scheme for the Department for Education.
Biophilia is an approach that focuses on connecting those inside a building with nature and increasing biodiversity through design.
The aim is for the new building to be net zero carbon in operation – which means that the amount of carbon emissions added is no more than the amount taken away.
St Mary's would consist of a primary school and nursery and would be single storey, made up of a series of pavilions arranged along a central canopy.
In the design, each age group – early years, infants and juniors – has a practical shared learning resource space. In addition, there is an entrance building featuring the hall, a chapel and communal areas.
The school would be largely timber built and insulated to a high level. It will also be naturally ventilated with photo voltaic solar panels and heating will be via air source heat pumps. Roofs will be green wildflower seeded to maximise biodiversity and local ecology.
Tilbury Douglas, a leading UK building, infrastructure, engineering and fitout company, has been appointed as the main contractor for this project. Tilbury Douglas will be holding a public consultation event in June ahead of a planning application for the new building being submitted to Derby City Council.
St Mary's original building on Broadway, Derby, was destroyed by fire in October 2020 and the school has been based at St James House on Mansfield Road, since April 2021.
Amanda Greaves, Executive Headteacher at St Mary's, said: "We are delighted to finally be able to share the wonderful news relating to our proposed new school. We would like to thank our parents and carers for their unwavering patience and understanding in supporting us, and we look forward to this new and exciting phase in the development of our new school."
Simon Butler, Regional Managing Director for Tilbury Douglas, said: "Care and attention has been given to ensure that the best possible learning environments are afforded for the pupils and teachers, with excellent standards of daylight, air quality, comfort and wellbeing. This is supported by a new biophilic approach, focusing on landscaping and connecting building users with outside. The building will have full height windows to provide views of the landscape for pupils and staff."
Sean McClafferty, Chief Executive of the St Ralph Sherwin Catholic Multi Academy Trust, said: "We are delighted for the community of St Mary's that plans for their new building are moving forward.
"Caring for our environment is at the heart of our Trust vision and we are thrilled that one of our schools is part of this pilot scheme for the DfE, which is all about increasing biodiversity and sustainability, something we are working on with all 25 of the schools in our Trust family."
The public consultation event is being held at Saint Benedict Catholic Voluntary Academy, on Duffield Road, on Wednesday June 8th between 3.30pm and 7pm.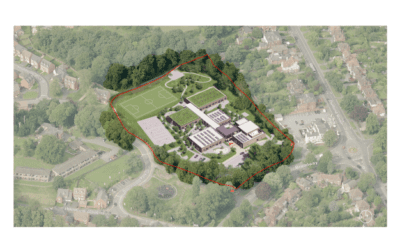 Pupils from seven Trust primary schools gathered at Ashbourne Leisure Centre for our latest Pupil Olympics event.
St Anne's in Buxton, St Mary's in Derby, Saint Mary's in New Mills, Saint Mary's in Glossop, St Elizabeth's in Belper, The Priory in Eastwood and St Mary's in Marple Bridge all took part in the event.
Swimmers of all abilities competed and the overall winners of the competition were St Anne's.
Well done to everyone who took part and thank you to all of the staff who supported the event and to our Pupil Olympics Lead, Dominic Harrison, for organising the gala.
Pupils receive chaplaincy training
Groups of Year 5 chaplaincy students from St George's, St Joseph's, St Mary's and St Alban's Catholic Voluntary Academies in Derby came together for a day of training.
The day, held at St Mary's parish hall in Derby, was led by Jamie Agius, Trust Lead Lay Chaplain. Students looked at creating a chaplaincy development plan for their schools and received training around taking on more leadership roles as they move into Year 6.
The day finished with a commissioning ceremony led by Fr Philip in the amazing church of St Mary's in Derby, where each student received a letter of commission.
Jamie said: "The students were brilliant and brought a superb level of energy and enthusiasm to the day. I wish them well as they move into Year 6."
Students make a splash at Trust swimming gala
Students from across our Trust secondary schools took part in a Swimming Gala at Ashbourne Leisure Centre.
This was the third Pupil Olympics event following football tournaments for primary and secondary schools.
Everyone had a great time, thank you to our Pupil Olympics Lead Dominic Harrison for organising the event and to the school staff who supported the children taking part. Our primary schools have been invited to the next Pupil Olympics event, another swimming gala at the same venue on Monday, May 16th. Well done everyone!