SRSCMAT Annual Conference 2022
Friday 1st July 2022 saw the Trust's Annual Conference take place.
With over 1,000 staff from our 25 primary and secondary schools in attendance virtually, there were inspiring talks from our keynote speakers, along with a wide range of high quality workshops on offer throughout the day.
We were delighted to welcome Jaz Ampaw-Farr and Sir Anthony Sheldon as our keynote speakers during the morning session.
As the afternoon progressed, staff were able to join a plethora of relevant, informative workshops, led by high-calibre system experts. With staff being able to choose their own workshops, it enabled them to create their own bespoke CPD programme, on subjects ranging from Catholic Life and Mission to GDPR.
The day came to a conclusion with some invaluable networking sessions, giving staff a chance to come together with other colleagues across the Trust.
A huge thanks to everyone who played a part in organising the event, our keynote speakers and the sponsors who made it all possible!
The amazing Virtual Conference Space, created by Sonny Sharma
St John Fisher Catholic Voluntary Academy has been given an overall rating of good following a Diocesan Canonical Inspection.
Inspectors from the Diocese of Nottingham said that the quality of Catholic Life, Religious Education and Collective Worship at the school, which is part of the St Ralph Sherwin Catholic Multi Academy Trust, were all good.
How well leaders and governors promote, monitor and evaluate the provision for the Catholic Life of the school, and the provision for Collective Worship, were graded outstanding.
The report said that St John Fisher CVA was well supported by the St Ralph Sherwin CMAT, which is committed to increasing all aspects of school improvement.
Inspectors said that pupils were proud to be a member of the St John Fisher community and they enjoyed the responsibilities the school provided for them, including as part of the chaplaincy team, the pupil council and as eco-champions.
The report said: "St John Fisher is a caring school with a family feel which is evident when you enter the school, and which is spoken about by so many of the stakeholders."
Commenting on the Catholic Life of the school, they said: "The Catholic Life of the school is highly valued by all stakeholders and leaders have ensured that it is the driving force for future school improvement across the school. This has a tangible impact on the aspirations that school leaders, staff and parents have for the future of the pupils in their care."
Pupils' charity work and fundraising was also highlighted in the report. Inspectors said: "A very large majority of pupils value opportunities to raise money for local, national and global charities and they have done so with great success. Most importantly, they understand why raising money for those in need is important. A Year 1 pupil said, 'We raise money because Jesus is our example, and this is how we show we love one another.'"
Inspectors described St John Fisher as a calm and spiritual school community "where staff want the best for pupils in their care."
Angelina Brett, Headteacher, said she was delighted with the outcome of the inspection.
She said: "Due to the COVID pandemic, we had to wait much longer than we thought we would for the inspectors to visit us!  We have worked hard to maintain our high standards and I am so proud of the St John Fisher CVA community.  The children, staff, parents, governors and parishioners shared their love and support of the school with the inspectors, highlighting that we are a family who are committed and care deeply for each other."
Trust CEO, Sean McClafferty, said: "I speak for all our Trust schools when I say that we are so proud of this achievement at St John Fisher.
"I know the whole school community, let by Angelina Brett, has worked incredibly hard to ensure that enhancing the Catholic ethos has been the priority for everyone. The fact that leaders and governors of the school have been judged as outstanding in their work shows how much progress is being made. Well done to all."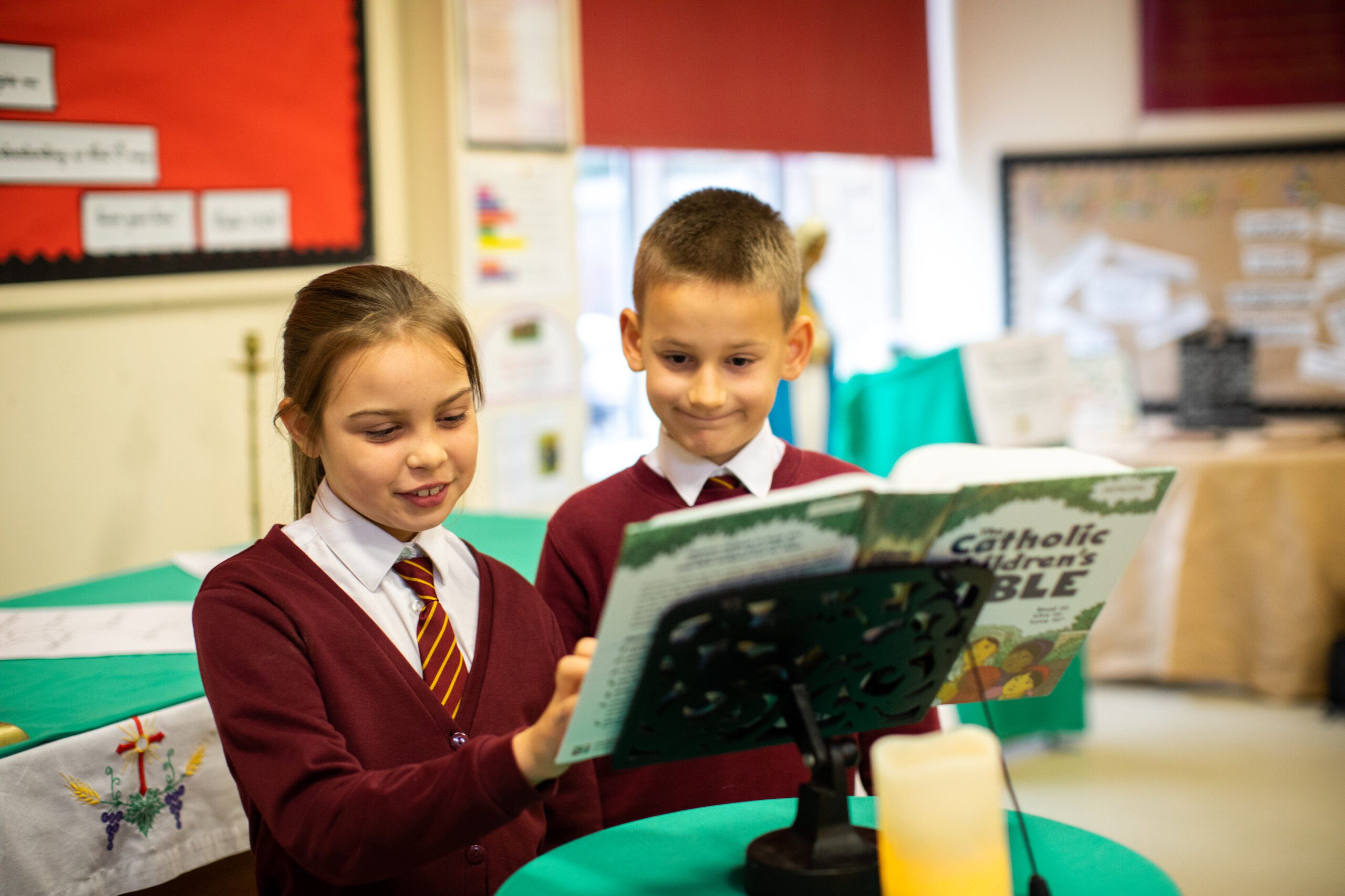 Sustainability top of the agenda at Pupil Parliament meeting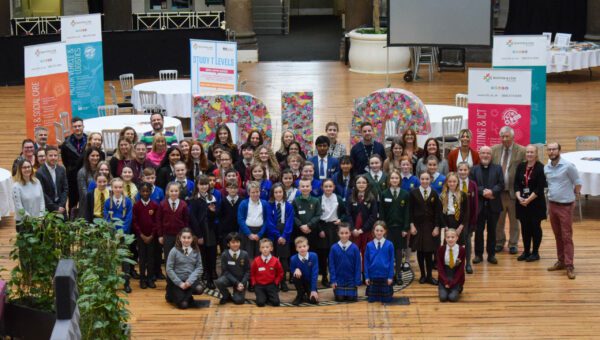 What a great day our Pupil Parliament had on Friday, March 11th. Sustainability was at the top of the agenda and students were given advice about campaigning for eco-friendly projects to be introduced across our Trust, in schools and communities. They also talked about the projects they are planning as a result of discussions in their sub-committees which are themed on Sustainability, Inclusivity, Fundraising, Pupil Community and Local Community. Thank you to everyone who joined us and we look forward to seeing you all again in the summer term!
A sponsored cycle around schools in the St Ralph Sherwin Catholic Multi Academy Trust has raised over £4,500 for charity.
Trust Lead Lay Chaplain Jamie Agius and his friend Mark Newing set out to cycle around all 25 schools in the Trust to raise money for the Disasters Emergency Committee.
Extreme weather conditions cut the three-day 'Tour de St Ralph' one day short but the pair have raised £4,502 so far and they plan to complete the planned course in the future.
The total journey would be 188 miles, mostly uphill, through Derbyshire, Nottinghamshire, Staffordshire, Stockport and the High Peak.
All money raised through sponsorship will go to the Disasters Emergency Committee, which brings together 15 leading UK aid charities which are experts in humanitarian aid and specialise in different areas of disaster response.
Jamie and Mark visited Saint John Houghton and St Thomas' in Ilkeston, The Priory in Eastwood, St Elizabeth's in Belper, Christ the King in Alfreton and St Joseph's in Matlock on the first day.
On the second day they stopped at St Phillip Howard, Saint Mary's, All Saints, St Charles' and St Margaret's, all in Glossop, St Mary's in Marple Bridge, Saint Mary's in New Mills, St Thomas More and St Anne's, both in Buxton.
Jamie said: "We were slightly trepidacious before setting off as the weather was predicted to be pretty horrendous with Storms Dudley and Eunice arriving during the ride. As a result, we decided that our original plan to sleep outdoors was probably not wise, so found some inside spaces to stay overnight.
"Unfortunately, the weather predictions for the Friday didn't look good so we made the decision to postpone the last leg of the tour and head straight home to Nottingham. It was a tough decision but one we felt was the safest.
"It was a brilliant experience not withstanding some of the biggest hills I've ever ridden up. We received some brilliant welcomes and motivating send-offs which really helped us move from place to place. I would like to say a huge thank you to anyone who may have donated. Finally, I have to say that the words of St Ralph Sherwin, 'Today and not tomorrow', really were the motivation for doing this ride."
Pupils in Years 9 and 10 from five Trust secondary schools came together for our latest Pupil Olympics event.
Boys and girls from both year groups at Saint Benedict, Saint John Houghton, St Thomas More, Blessed Robert Sutton and St Philip Howard took part in a football tournament which was held at Powerleague in Derby.  Events for Years 7 and 8 and primary schools have already taken place. Well done to everyone involved and to our Trust Pupil Olympics Lead Dominic Harrison for bringing our Trust together. Thanks also to all the staff who supported the pupils.