Our Vision
"We are a Catholic family of schools, working as one, transforming every individual, their family and our Trust community through the building of God's Kingdom, caring for our environment, today rather than tomorrow."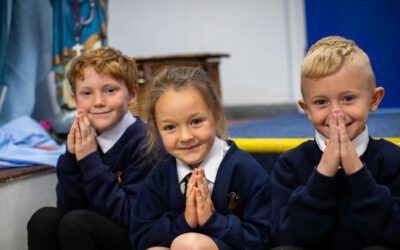 Community – being and building a Catholic family of schools working alongside the parents, parishes and local communities we serve.
Aspiration – enabling the transformation of every pupil, employee and volunteer, across our Trust family so that all can be their best and do their best to transform our world for the benefit of all.
Renewal – building God's Kingdom here on earth every day in all that we do and say.
Encounter – encountering Jesus and helping all to grow in their relationship with.
United in Faith
All Trust Schools are guided by four core values that underpin everything we do:
Spiritual Focus
In all we do including curriculum, spiritual development and how we treat and develop our staff.
Respect
We recognise that each individual is made in God's image. Pupils are cherished for who they are, as much as for what they achieve and all achievements are celebrated.
Achievement
We provide the very best learning, delivered by teachers who are supported to deliver their best every day for our children and young people.
Collaboration
We work collaboratively and are committed to working in partnership within the CMAT and with our wider communities.