On behalf of the St Ralph Sherwin CMAT Board I am delighted to announce the appointment of our new CEO, Kevin Gritton, who will start in his role on 1st September 2022.
Kevin brings to the role experience of over 25 years in teaching, including most recently as Headteacher at Saint Benedict in Derby, the largest school in the Trust, which moved from an Ofsted Special Measures rating to Good within 18 months under his leadership. He is also currently a Trust Leader of Excellence in Education and previously has been an Executive Headteacher supporting other schools in the Trust.
I would like to take this opportunity to thank Bishop Patrick for giving his approval for this appointment plus Fr Simon and Peter Giorgio, Director of Education for the Nottingham Roman Catholic Diocesan Education Service who, along with the SRS Trust Board, formed the selection panel for this post.
Jacqueline Rodden
Foundation Director and Chair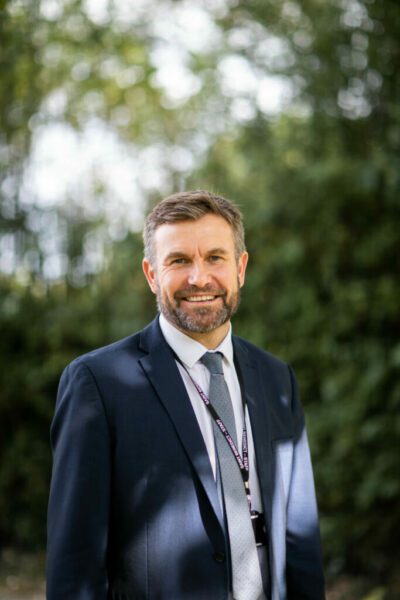 Pupils in Years 7 and 8 from five Trust secondary schools came together for our latest Pupil Olympics event.
Boys and girls from both year groups at Saint Benedict, Saint John Houghton, St Thomas More, Blessed Robert Sutton and St Philip Howard took part in a football tournament which was held at Powerleague in Derby. An event for primary schools has already taken place and the next secondary school event will take place on Monday, February 7th. This will be a football tournament for boys and girls in Years 9 and 10.
Well done to everyone involved and to our Trust Pupil Olympics Lead Dominic Harrison for organising such a successful event. Thanks also to all the staff who supported the pupils.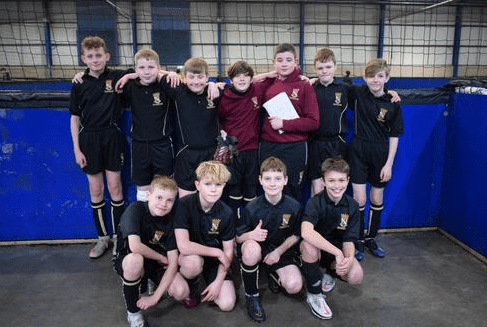 Holy Rosary Catholic Voluntary Academy in Burton has been given an overall rating of good – with areas of outstanding practice – following a Diocesan Canonical Inspection.
Inspectors from the Diocese of Nottingham said that the quality of Catholic Life and Collective Worship at the school, which is part of the St Ralph Sherwin Catholic Multi Academy Trust, were outstanding and graded RE education as good.
The inspection also looked at the behaviour and attitudes of pupils, their personal development, the leadership and management of the school and its overall effectiveness, judging all to be good and concluded: "Holy Rosary is a good and effective school which has improved significantly since the last inspection. Here, outstanding Catholic Life and Collective Worship is demonstrated. The school's character behaviours, and the gospel values chosen, permeate every aspect of school life and are confidently articulated by pupils, staff, parents and governors alike: everyone concerned is visibly proud to be part of this school community."
Marie Dyche, Acting Head of School at Holy Rosary, said: "We are delighted with the result of this inspection and particularly pleased that inspectors recognised the strong sense of community that is clearly evident at Holy Rosary. We would like to thank our school community for their support, along with the St Ralph Sherwin Trust and the Diocese. We will continue to work hard to provide the very best education for our children, who are at the heart of everything we do."
The report highlighted many strengths across the school, including Collective Worship. Inspectors said: "The outstanding Collective Worship demonstrated at Holy Rosary is central to school life. This is celebrated enthusiastically by the whole community and parish. Pupils enjoy the contemporary nature of worship and develop genuine ownership when planning and leading worship as they progress through the school."
Pupils' behaviour was praised by inspectors who also highlighted the school's "use of a number of innovative and creative ways to engage with them and their families during the pandemic." This included a dedicated school YouTube channel called HRTV, which received over 35,000 views and provided pupils with tangible links during periods of home learning.
Opportunities for pupils to embrace leadership were also recognised in the report, including pupil groups called 'Messengers', 'Earth Friends' and the 'School Parliament'.
Another strength of the school is the "strong sense of community", the report said, along with the quality of pastoral care given to pupils and families.
During their visit, inspectors met with senior leaders and governors. They talked to pupils about their work and visited lessons and Collective Worship, observed extra-curricular activities and form time sessions, spoke to curriculum leaders and teachers and looked in depth at the RE curriculum.
Inspectors sought the views of members of the school community, including parents, pupils and staff.
In relation to the pandemic and school closures, the report said: "Parents are eager to discuss how communication is clear, timely and supportive."
Governors, staff and the school's lay chaplain were all received praise in the report and inspectors said leaders valued the support from the St Ralph Sherwin Catholic Multi Academy Trust and the Diocese.
Trust CEO, Sean McClafferty, said: "This is wonderful report to read and fully reflects the hard work, dedication and commitment of all staff, governors, parents and pupils. As a Trust, we are hugely proud of their achievements and the judgements of outstanding for Catholic Life and Collective Worship are particularly pleasing."
Blessed Robert Sutton Catholic Voluntary Academy in Burton, which is also part of the St Ralph Sherwin Catholic Multi Academy Trust, was recently graded good in all areas following a DCI Inspection.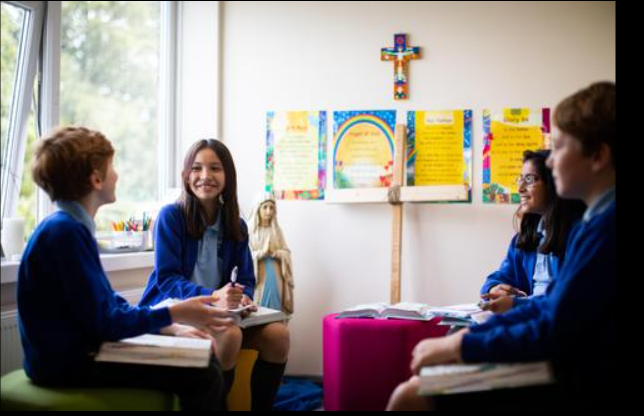 Lead Lay Chaplain Jamie Agius is set to cycle around all 25 schools in the St Ralph Sherwin Catholic Multi Academy Trust to raise money for the Disasters Emergency Committee.
Jamie and friend Mark Newing will take on the 188-mile, mostly uphill journey through Derbyshire, Nottinghamshire, Staffordshire, Stockport and the High Peak from February 16th to the 18th.
There will be two outdoor overnight stops for the pair during 'Tour de St Ralph', one in woods near Ashbourne and one in a bothy in the hills above Glossop.
The plan is to stop at each school in the St Ralph Sherwin Trust, say a prayer with pupils and take a photo.
All money raised through sponsorship will go to the Disasters Emergency Committee, which brings together 15 leading UK aid charities which are experts in humanitarian aid and specialise in different areas of disaster response.
Jamie said: "The idea came about because the situation in Afghanistan is so desperate, I felt like I had to do something. Our Trust motto, the words of St Ralph Sherwin, is, 'Today, not tomorrow'. It's about taking action when it's needed, not putting it off; this felt like such a time. I love cycling and I thought it would be quite a symbolic route to get around all of the Trust schools. The most I've cycled before is 100 miles in a day but that was mostly off-road. For this journey we will be mostly sticking to side roads but there will be about 15,000ft of hills to climb.
"We chose the Disasters Emergency Committee because it is a consortium of charities and has the most effective impact in terms of getting support to the people who need it. As a Trust which educates and nurtures children and young people, we can only hope that the children and young people of Afghanistan get the help they so desperately need. "
You can sponsor Jamie via his JustGiving page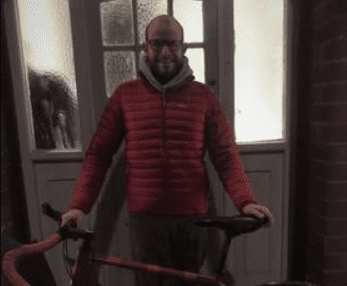 Saint Mary's Catholic Voluntary Academy in New Mills is delighted to have successfully achieved a GOLD in its school Mental Health Award with Leeds Beckett University.
The school holds mental health in the highest regard and the staff and pupils have worked tirelessly in ensuring that the mental health and wellbeing of their pupils and staff is woven into the fabric of everything they do.
For the past 12 months, their Mental Health Ambassador has been gathering evidence for the award focused around eight Key competency areas: leadership and strategy; organisational structure and culture for staff; organisational structure and culture for pupils; support for staff; professional development and learning; support for pupils; working with parents and carers; working with external services and the school was delighted to be graded 'excelling' in all areas.
In final validation the assessor commented that 'Saint Mary's Catholic Voluntary Academy has presented a wide-ranging profile of evidence that demonstrates they are excelling across all eight competencies of the School Mental Health Award, with strong practice well developed throughout the school'
This award could not have been achieved without the drive and focus of all staff and pupils, in ensuring that the school is a happy, healthy and inspiring place to learn.
Jo Mallabar, Saint Mary's